Our Story
Most of us like to have cute clothes in our closet, but sometimes we just dont feel like looking for them 💁🏽‍♀️ We will bring cute, effortlessly stylish pieces right to your phone so you can shop when you feel like it. Not sure if you like the material or if something will fit? Send us a message here or on any of our social media (@aydenroseboutique) or email aydenroseboutique@gmail.com and Liz will get back to you within 24 business hours!

We offer several ways to shop! Shop here on the website, or comment on any of our social media and we'll send you an invoice! Make sure to check out our Facebook live sales where we go into detail about the material & fit so you know exactly what to expect in your new items!

A little about us: Ayden Rose Boutique was created by twin sisters who love to shop, share and talk about "cute clothes". We love finding (and wearing) effortlessly stylish clothes that give us confidence. This site is a curation of some of our favorite pieces for women! As busy moms, we know it can be hard finding time for ourselves, never mind spending hours in a store or at the mall. Our mission is to bring cute, comfortable, on-trend, affordable fashion to busy women like ourselves. We have done the work for you - so you can shop on your couch or at your desk…and maybe even share your finds with a sibling or friend, just like we do!
Watch our weekly live sales here!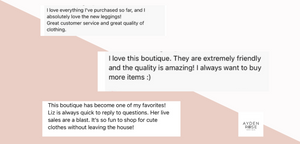 Customer Love 💕